This page requires JavaScript to be enabled, unfortunately it doesn't appear to be working here so please contact Tootoomoo by phone to place your order: Crouch End 0208 340 2633 | Highgate 0208 342 9112 | Islington 0207 704 6687
Crouch End pan Asian restaurant offering takeaway, collection and delivery N8
Tootoomoo's flagship Crouch End restaurant has a brand new fresh and healthy Pan-Asian menu, where sharing plates take centre stage. Whether popping in for dinner with friends or sipping your way through our inventive cocktail list, listen to the wok fire up explosive flavours and breathe in the scents of the spices at our little slice of Asia.
Delivery or Collection
Our Mouthwatering Menu
book a table online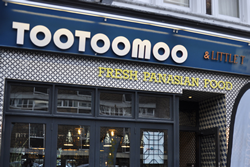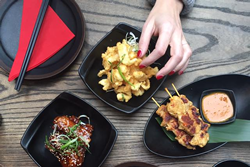 Tootoomoo
This is one of my favourite restaurants in London. I don't find myself in Crouch End that often but can order the takeaway to my house which is also incredible. The food is fresh and feels healthy. The restaurant is bright, fun and friendly. Not only amazing pan Asian food but really great cocktails (which you can also order for takeaway!)...
Tootoomoo
If in crouch end don't go anywhere else. I've lived here for 26 years and it is the best restaurant around. Service is excellent. Food is fresh. Good waiting time so you know it's just cooked but not waiting ages. Best green curry I've had for ages. Delicious tempura prawns. Going back tomorrow...
Tootoomoo
Been here few times now and never disappoints. One of the best green curries I've ever had (and I've had a fair few). Food is fresh and vibrant. Relaxed atmosphere. Lovely wine. Service very good and caring. Comfy seats. Maybe I could squeeze in lunch tomorrow. ..love it.
@IamTootoomoo 2 home deliveries in 2 weeks, best takeaway for as long as I an remember. Beautiful food, tasty.
What's going on at Tootoomoo?