This page requires JavaScript to be enabled, unfortunately it doesn't appear to be working here so please contact Tootoomoo by phone to place your order: Crouch End 0208 340 2633 | Highgate 0208 342 9112 | Islington 0207 704 6687
N16 Pan Asian Restaurant/Takeaway near Stroud Green
Tootoomoo offer a wide selection of pan Asian food inspired by a range of cuisines from across Eastern Asia.
Order online
Book table online
View address and contact details
We deliver all your favourite dishes you'd expect to find from a Chinese takeaway, but also offer a huge range of authentic Thai, Malaysian, Vietnamese and Japanese dishes to create your perfect pan Asian fusion, for collection and delivery to Stroud Green from our takeaway-only outlet in Highgate, Tootoomoo To Go.
As a pan Asian takeaway and restaurant group, we deliver fresh, pan Asian food direct to Stroud Green. Our flagship restaurant in Crouch End is less than a two mile drive and takes approximately 10 minutes when travelling on the W7 bus.
Since opening its doors in late 2012, our Crouch End restaurant and takeaway is now firmly established within the local community as one of the area's best eateries. The success of the Crouch End restaurant has led to further expansion of Tootoomoo, with restaurants/takeaways opening in other surrounding areas (Islington, Highgate and Whetstone) meaning that more people across North London are able to enjoy a fresh pan Asian experience.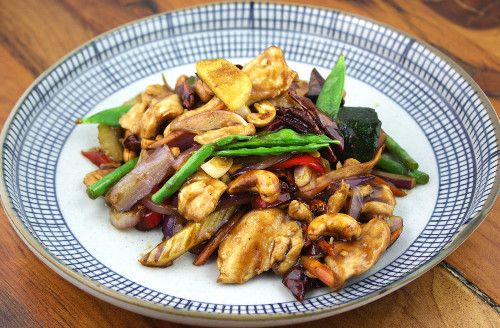 ---
Join us and relish in our range of dishes influenced by the cuisines of Indonesia, Thailand, Malaysia, China, Korea and Japan - all available under one roof.
Our Highgate takeaway delivers fresh Japanese, Vietnamese, Thai, Malaysian and Chinese food to the following areas: N8 N4 N2 N6 N10 N19 N22 7
EAST FINCHLEY (N2)
FINSBURY PARK, MANOR HOUSE, HARRINGAY, STROUD GREEN (N4)
HIGHGATE (N6)
CROUCH END AND HORNSEY (N8)
MUSWELL HILL (N10)
UPPER HOLLOWAY, ARCHWAY, TUFNELL PARK (N19)
HARINGEY (N22 7)
If you'd rather dine in, the nearest Tootoomoo restaurant to Stroud Green is in Crouch End:
Tootoomoo
12 Crouch End Hill
,
Crouch End
,
London
,
N8 8AA
Phone:
020 4512 7779
The restaurant is just off Crouch End Broadway (N8) and a short walk from Crouch Hill Overground station. The W7 bus runs between Stroud Green and Crouch End and takes approximately 10 minutes.
View restaurant opening times